Alumni News
Dominic Brown selected as a VCU Alumni 10 Under 10 honoree
Friday, October 1
Dominic Brown is a 2011 VCU School of Business graduate and founder of TallTravelEats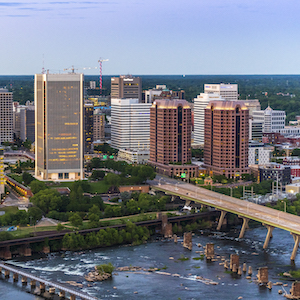 Helping graduates land top Econ jobs with the Federal Reserve is a team effort
Monday, September 27
Three VCU Econ grads earned coveted positions within the Federal Reserve System
Long line of VCU connections turns entrepreneur's dream into reality
Thursday, September 9
Whereas the name LipLoveLine is meant to identify Williams' new line of lip products, it could just as easily denote the long line of VCU connections that helped her bring that dream to reality.
Alum crowned 'Clash of the Cones' winner on Food Network
Tuesday, September 7
Rabia Kamara, founder of Ruby Scoops ice cream parlor, dazzled the judges throughout the season.
Band of brothers creates a memorial scholarship for inspirational friend
Tuesday, August 24
Will Sheffey faced challenges with incredible positivity. After he died, his fraternity vowed to keep his legacy alive.
VCU celebrates outstanding alumni volunteers
Thursday, June 10
Virginia Commonwealth University honored a group of its most dedicated alumni June 3 at VCU Alumni's Alumni Volunteer Service Awards celebration.
Experience spurs donor generosity
Wednesday, May 12
Inspired by personal experience and a sincere desire to give back, these alumni gave a specific gift to the university that helped to launch their own careers.
Stories of pandemic perseverance from the Executive Class of 2021
Thursday, April 29
Professionals in VCU's executive weekend programs faced unprecedented challenges in 2020 yet pandemic enrollment surged.